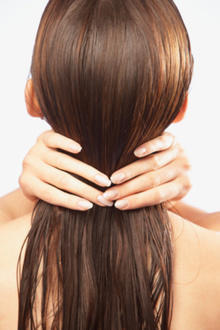 Ever wonder why no matter what you do to your hair, it's just too flat, too oily or too dull?
Our stylists at Patrick Taleb Salon work hard to keep your hair looking healthy, shiny and beautiful. But, did you know that some of your routine hair habits could actually be what's damaging your hair?
It's true. Simple things we don't even realize we're doing to our hair can cause breakage, hair loss and lifeless locks. The good news is you can easily break these bad hair habits.
This New Year, make it a resolution to break these 10 bad hair habits, and you're sure to have a year filled with better hair days:
Washing Your Hair Daily: You may be washing your hair every day because your hair is too oily. But, in doing so, you are actually causing your hair to be oilier.  Over-shampooing strips away color and your hair's natural oils. Stick to washing every two to three days. If your hair gets too oily in between, the right dry shampoo goes a long way.
 Blow Drying, Curling & Flat Ironing without Heat Protection: The damage caused by the heat from these styling tools creates breakage, split ends and dryness. Applying thermal protection to wet hair before styling moisturizes your hair, and protects it from such damage. We recommend Kerastase's Nectar Thermique – it nourishes and softens hair, and makes it easier to style!
Using Rubber Bands as Hair Ties: This is a big no-no! It's easy to tie your hair up with a rubber band if you don't have a hair tie lying around. But, the damage you do in the process isn't worth it. Rubber bands stick to your hair, and cause tons of breakage. If you need to put your hair up, try wrapping it around and making a loose knot with your own hair – it's easier on your strands.
Using the Wrong Hair Products: If you have oily hair, using a line that is too moisturizing is actually doing more harm than good. Also, the amount of soap in most shampoos dries out your hair. Making an investment in your at-home hair care is worth it. Ask your stylist what products are best for you. Kerastase and L'Oreal Professionnel are both recommended by our team.
Not Using Sunscreen: Your skin isn't the only part of your body that needs protection from the sun. Products like Kerastase's Soleil line protect hair from UV rays, salt-water and chlorine damage (which dries out your hair and affects your color, especially for blondes). You should also wear a hat to protect your hair from the sun, and rinse your hair out right after swimming.
Shampooing Too Much… Conditioning Too Little: Because shampoo can dry your hair out, you should never skip conditioner, even if you use a 2-in-1 shampoo and conditioner. If your hair is dry, using a mask once a week will help keep your hair moisturized. And, you should also treat yourself at the salon to a deep conditioning treatment at least once a month.
Pulling Your Hair Back Too Tight: It can be tough to have your hair done all the time, and pulling it back is the easiest way to style it. But, pulling your hair back into tight ponytails, braids and buns causes breakage. And, if done excessively, it can lead to permanent hair loss. Don't forget to ease up on the elastic.
Sleeping With Your Hair Up: This is another way to ensure hair breakage, especially if your hair is wet, when the strands are most vulnerable. It's best to let your hair dry completely and leave it down. Sleeping on a satin pillowcase also helps to prevent breakage and split ends.
Skipping Trimmings: It's no secret that getting your hair trimmed regularly makes your hair noticeably healthier. It also helps with growing it out. If your hair doesn't grow as fast as you'd like, trimming it once every 2-3 months will make it grow back faster and stronger.
Styling When Wet: You hair is weakest when it's wet, so avoid brushing, combing and styling when you just get out of the shower to prevent breakage and damage. Towel-dry your hair gently, and let it dry 70-90% before styling.
If you still can't seem to find the solution for your hair, it may be time to switch stylists. And, if you're looking for a hair salon in Weston, be sure to visit Patrick Taleb Salon for all your hair care needs!
Which bad hair habit will you break this year? Let us know in the comments below!