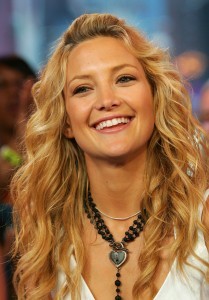 Ladies, summertime is almost here; and, perfecting the "natural" beach-wave look is a must. Loose, soft curls, like those on Kate Hudson, are trending this season – it's sexy, simple and glamorous. And, whether you have short hair, long hair, straight hair or curly hair, you can achieve the "beach wave" in just a few easy steps.
Our stylists at Patrick Taleb Salon in Weston understand you can't always make it in to the salon to get your curls done, so we've created a step-by-step guide to help you get this look at-home.
Here's what you'll need: A blow dryer, a large round brush, a 1.5-inch barrel curling iron or wand, bobby pins, heat protection spray, hairspray, volumizing spray.
Step 1: Wash and towel dry your hair. Before blow drying, it's important to protect and prep the hair so that it will hold the curls. First, add a thermal protection spray, like Kerastase's Nectar Thermique, to avoid damage from the blow dryer and curling iron. Next, spray a volumizing spray to your roots to add body and fullness.
Step 2: Blow dry your hair straight with a large round brush. This doesn't have to be the perfect, stick-straight blow-out, since you will be using the curling iron, and you want to have volume and body to your hair.
Step 3: Now, you're ready to curl. Take approximately 1-inch of your hair and spritz with hairspray. We like L'Oréal's Infinium 4 spray. Next, wrap the hair around the barrel of the curling iron and hold for 10-15 seconds. After releasing, spray the hair again for additional hold, roll it up into a bobby pin and pin to let the curl cool in place. Alternate the direction of the curl as you switch sections – it looks more natural.
Step 4: Once you finish curling all sections, and the pinned curls have cooled, release. Loosen and separate the curls with your fingers. The more you run your fingers through the curls, the looser they'll get. Don't overdo it, so the curls don't fall out quickly.
Step 5: If your hair is fine or straight, set with more hairspray. Make sure to spray from a distance so your hair doesn't look wet or crunchy.
Depending on how much hair you have, this could take you up to an hour to accomplish, but the final look is well worth the effort! If you prefer getting your hair done, our hair stylists at Patrick Taleb Salon are creating curls and beach waves for any summer look.
What are your tips for curling your hair? Let us know in the comments below.